Archive
Archive for October, 2008
Today I bought a couple bras, one at Aerie and the other at Kohls.  I find it very bizarre that they are assigning names to styles of bras now.   I don't mean normal style names like "Midnight Magic" or something like that, but actual human female names.  Today I bought "Katie" at Aerie and "Haylie" at Kohls (Candie's brand).
Aerie was giving out $5 coupons to anyone who tried on a bra, so I humored the salesgirl as she explained to another customer and me the different bras– "Katie," "Paige," and "Sasha."  (The one with the hooker name was the deep-plunge push-up, of course.)  As she was talking, using words like "dramatic" to describe the styles, I couldn't help but imagine an animated series with characters consisting solely of anthropomorphic bras.
I actually own two "Katies" now and one of them is black.
Categories: Knowledge has vagina dentata so don't you fuck with it, Social commentary Tags: aerie, bra, bras, Katie, Kohls, names
Good morning.  It's 11:38 AM.  I fell asleep at 7 AM.   I am tired and cranky and would like to raise a hefty middle finger to the Drudge Report, which has been increasingly pissing me off since its posting about the crazy, attention-seeking chick with the backwards B carved into her face.
It is no surprise that a week before the election is the appropriate time for the Marxism rhetoric.  Because tying Obama to the name of a man who died long before industrial capitalism was effectively replaced by finance capitalism is now the most effective way to propagate fear, since calling him a Muslim obviously wasn't working.
All reasonable onlookers of Drudge's latest headline —  2001 OBAMA: TRAGEDY THAT 'REDISTRIBUTION OF WEALTH' NOT PURSUED BY SUPREME COURT —  say, wtf, Matt Drudge, what is this bullshit.
The video in scrutiny shows, quote Huffington Post, "Barack Obama in law professor mode discussing the limitations of the court and his belief that the legislative process is the appropriate way to pursue economic justice. (Which if memory serves – accords with the conservative preference to eliminate judges who legislate from the bench.)"
My favorite gay, libertarian blogger says, "He was making a case against using courts to implement broad social goals – which is, last time I checked, the conservative position."
Yes, Obama is a socialist.  Because progressive taxation is totally the slippery slope to replacing private means of production.  Yay labour theory of value!  Boo marginal utility!   Most people have no idea what I'm talking about because most people can neither define nor spell proletariat.
God forbid we become a "socialist country much like Sweden," the country with world's highest democracy index, which ranks higher than the United States in per capita GDP, literacy rates, life expectancy, and oh– happiness.
Fuck you, Matt Drudge.  Fuck you.
Categories: Politics or: the art of looking for trouble Tags: Drudge Report, joe biden interview, Marxism, Matt Drudge, obama, Socialism, Sweden
I was in Party City last week and I saw: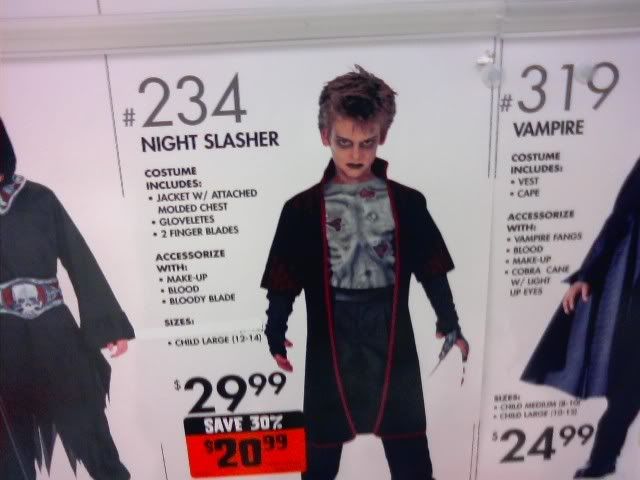 and immediately thought OMG IT'S THE I LIKE TURTLES KID!
Am I sad?
Categories: things that amuse me, Viral Things Tags: i like turtles kid, zombie
If you're on deviantart, and you're not watching 'tangledweb, GO NOW!
And read his latest:  http://tangledweb.deviantart.com/art/O-NO-100649154
An excellent satire piece that will make you
Categories: things that amuse me Tags: deviantart, obama, prose, satire, sterling stevens
http://blog.oup.com/2008/10/anatolyliberman-plurals/ :
In the first edition of Random House Unabridged Dictionary (1966), the entry they occupies eight lines and is trivial. In the second edition (1993), a long section on usage was added, which I will reproduce in full: "Long before the use of generic he was condemned as sexist, the pronouns they, their, and them were used in educated speech and in all but the most formal writing to refer to indefinite pronouns and to single nouns of general personal reference, probably because such nouns are not felt to be exclusively singular: If anyone calls, tell them I'll be back at six. Everybody began looking at their books at once. Such use is not a recent development, nor is it a mark of ignorance. Shakespeare, Swift, Shelley, Scott, and Dickens, as well as many other English and American writers, have used they and its forms to refer to singular antecedents. Already widespread in the language (though still rejected as ungrammatical by some), this use of they, their, and them is increasing in all but the most conservatively edited American English. This increased use is partly impelled by the desire to avoid the sexist implications of he as a pronoun of general reference."
The author then proceeds to rip these progressive dictionary fellows a new one.  Archaic thinking?  Or pragmatist against grammar anarchy?
Categories: Uncategorized
I wish I had come across this article earlier. It still makes me proud to remember whom I supported in the primaries and whom I would have voted for had he not withdrawn by the time the primaries hit my state.
Some people will ask of this Congress, what were we thinking? Why did we give $700 billion bailout to Wall Street without fixing what caused the problem in the first place? Why did we rig the free markets for security fraudsters? Why didn't we explore alternatives to let Wall Street solve its own problems? Why didn't we have money save millions of homeowners, create millions of jobs, and a green economy? Why didn't we stop the speculators? Why wasn't there accountability? Why didn't we take time to make an intelligent decision?
Categories: Politics or: the art of looking for trouble Tags: bailout, dennis kucinich