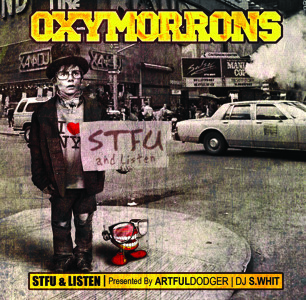 I was at the OxyMorron's GeekLife Embassy release party last night representing The Feminine Miss Geek.  Good times at the Rocawear showroom.  A little bit of mosh pit action and crowd surfing went on before the group came out and gave another energizing performance.
I downloaded their last album 2 Tone Denim and so far am really digging the way they mix and blend across genres.  This is some great alternative hip-hop and I hope these guys continue to climb in the NYC scene.
I should have a full review of the event, some pics, my take on the new album, and more up on TFMG sometime next week.
STFU and Listen was released for stream and download on their website:  http://www.geeklife.me/  Check it out!
Categories: Pop-culture, Reviews Tags: geek life, NYC Hip-hop, oxymorrons, stfu, STFU and Listen