Archive
Posts Tagged 'fashion'
scandalousmuffin:
You know, it does make me look 10 years younger, but I still think I rock the nerd raccoon hoodie.
Originally posted on Form and Function Fashion:
As a 24-year-old Chinese American woman, I admit I have mixed feelings about my Nerd Raccoon Hoodie from Forever21:
–
BOF outlines changing cultural international fashion trends in Amongst Chinese Girls, Cute Gives Way to Cool:
First, she holds up a big panda-eyes T-shirt and announces: "This was our bestseller last spring." Then she points to the bunnies that swarm all over the brand's summer miniskirts, another bestseller. Finally, she presents a whole menagerie of cats, swans, lions and mice that proudly parade on a successful series of tops. In the winter, she said, faux-fur hoodies with small ears have been doing well, helping this writer to understand why chilly Chinese girls sometimes look like bear cubs.

Until recently, these kinds of "childish" products have driven strong results…
While the women born in the 1980s lived in an environment of fast economic growth, combined with rigorous education standards, post-90s…
View original 75 more words
Categories: meta-blogging Tags: fashion, forever21, hoodie, trending, trends
Scandalousmuffin here again with some more cross-blog promotion.
Dis mah blawh! I do wut I want!
–
Fashion, Beauty, Make-up, and Style Writers Wanted for Original Content Production!
–
Network with a talented team. Build your writing portfolio. Write about stuff and things that you like!
(Open to all styles of women and men! Good writing  and communication skills a must. Compensation possible in the future.)
I'm also looking for business partners and sponsors. No specific criteria yet, aside from fashion-themed, but let me know if you or anyone you know is interested. Also, graphic designers; F&F can haz logo?
E-mail short cover letter and resume to the address in the About page in the linkety link!
Categories: meta-blogging Tags: beauty, blog, bloggers, blogging, fashion, form, form & function, Jobs, make-up, money, Style, talent, writers, writing
I have a new side-project blog that is finally live: Form and Function Fashion Blog

I've posted a couple times about fashion and beauty on Clantily Scad and those posts got positive feedback. Since this blog was getting so all-over-the place with the politics and culture commentary, I decided, why not just make my own fashion blog?
I might buy a domain name for it eventually, and I definitely want to make a better layout. My graphic design skills are alright, but if anyone wants to make me a sexy logo for F&F for free, please let me know. 😛
I'm currently looking for contributing writers for Form and Function Fashion for different areas: Hair, make-up, skin care, body-type expert, etc. I already have a "Nail Art Expert" lined up. So if you're interested in fashion and/or beauty blogging, comment with your contact info. I do have high standards for writing, just so you know, and it will also be unpaid for now unless I decide it's getting enough traffic to monetize. (And then I'd probably split any profits proportional to writers' post views. ) If you know anyone who is interested, send them my way to the blog or this post.
–
Other exciting news in Scandalousmuffin Land:
I've signed on as a contributing writer, probably with a health & wellness focus, to a site called The Flairist.
They are up-and-coming online magazine with a focus on career advice for young women. Give them a shout-on on Facebook, if you like them. I will have more details about exactly what I'm writing for them soon.
The Internet is really an amazing place and I feel really lucky to live in a time where I can so easily connect and talk with such interesting, talented people.  Never under-appreciate your friends, on the internet and otherwise. Things are really amazing right now.
Live, write, and love always.
–
Categories: Autobiographical Stories, meta-blogging Tags: beauty, blogging, career, fashion, Form and Function, networking, scandalousmuffin, Style, The Flairist, women, writing
scandalousmuffin:
This is a cross-post I did from The Feminine Miss Geek last year.

–

–

I recommend DESiGNERiCA once again if you're looking for simple yet elegant, functional, environmentally-friendly jewelry. I just bought some geometrical earrings from her that were made with a 3D printer.

–
(Sorry, about the layout weird-ness. Gonna fuck around with the CSS later this week to try and make re-blogs work nicer.)
Originally posted on The Feminine Miss Geek:
Environmentally-friendly products have increased in popularity in recent years with movements towards Green Design. Jewelry and accessory craft makers that specialize in sustainable design are promoting products with eco-friendly production methods as the preferable production choice. The Internet is creating a whole new market for environmentally conscious consumers who want to look good and save the planet at the same time!
Power Ring via designerica etsy — $50
Will custom size to fit.
RIP Steve Jobs
Inspired by the button on a mac, this ring is sure to appeal to all the geeks (guys or girls) in your life!

The Power Ring is a traditionally shaped insignia ring with a very modern twist– rather than a crest, the front of this ring is inscribed with the symbol used by many electronics brands to indicate on/off buttons.
Materials are chosen responsibly and utilized to minimize unused material. For more products and…
View original 7 more words
Categories: Nerd Out Tags: earrings, eco, eco-friendly, enviornment, fashion, jewelry, sustainable design
I despise clothes shopping. It is my least favorite kind of shopping because you can't reliably do it all online. I hate the way the sales associates say "how are you?" as if they really care. I hate the cold blank stares from the food-disorder-inducing mannequins with ivory hipbones that could pierce your soul. I hate the way fluorescent lighting in dressing rooms makes everyone look sickly and imperfect and SELF ESTEEM KICK IN THE NUTS.
But most of all I hate the lack of clothing that is both practical and cute. Yes, I am a girl and want to look good. But goddamit, they're making it so hard.
Just look at this banner from mandee.com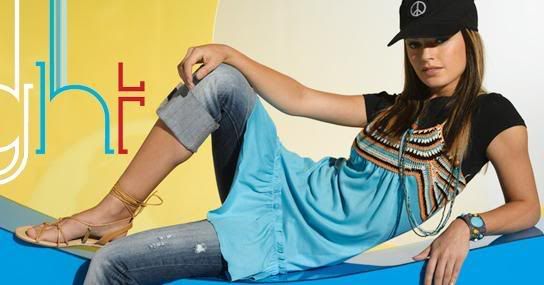 When did clashing become the cool thing to do? "Hello, I am a hippie bimbo-trucker-future teen pregnancy victim! Let my chest mesmerize you with its Mayan intricacy." Sorry, model, but I'd prefer not to buy sandals that look like what Jesus would have worn. Maybe that outfits works for you, but the average person isn't followed around by a color-coordinated graphic background.
Read more…
Categories: Social commentary Tags: clothes, criticism, crocs, fail, fashion, hate, mandees, shopping, spring summer, sucks, women